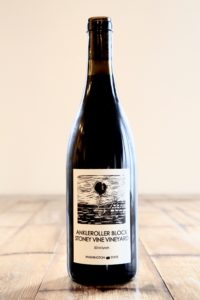 2014 SYRAH STONEY VINE VINEYARD ANKLEROLLER BLOCK
We pursued Syrah from Stoney Vine Vineyard, a site planted in the rocks in 2007 after an old apple orchard was pulled out. Here is the Everyvine page showing the precise location of this 20-acre plot (with 16.7 acres under vine). And here are a trio of pictures taken during a vineyard trip a few months ago:
One of our rows, showing the extreme rocky nature of the site.
A close-up shot of the "soil" at Stoney Vine.
One of our row end-posts, showing that we're actually pulling from the original plantings at Block 1. We chose to use some poetic license with the name of the block, and I don't think anyone who has walked a row at Stoney Vine would argue with our choice.
It is a unique, remarkable part of the world for growing grapes, and I'm absolutely thrilled that we have access. We fermented our Syrah grapes entirely with native yeasts, and left a full 50% as whole-cluster (stems and all). We then pressed into one single second-use French puncheon, and aged the wine for 21 months before bottling in summer 2016. The finished wine clocks in at 14.1% alcohol.
One of the reasons I wanted to work with Morgan on this project is that he knows how to coax just-right funkiness out of rocks fruit. His capability with rocks Syrah, which our list members have known about for some time, made national press this year when his own rocks Syrah received an eye-popping 95pt review from Harvey Steiman in Wine Spectator. I probably won't submit a sample of today's wine to Spectator; at 55 cases total production, every bottle is just too precious.
The core of fruit is squarely in the berry family – marionberries and huckleberries – but you're not here to hear about the fruit, are you? The savory elements are many and varied: sanguine minerality, glorious briny notes of olive and caper, and a host of cured meats. It's a wonderfully difficult nose to pin down, because it seems to evolve by the minute. Now meaty, now bloody, now floral; what a thrill ride! The palate features the silky, high-pH mouthfeel many of us adore from rocks Syrah. That pillowy texture carries waves of fruity/savory goodness across the palate. It's a total umami bomb, seamless and charming. And I don't know if you know this, but "umami" is derived from the Japanese words for "delicious" (umai) and "taste" (mi). Delicious taste indeed, and a perfect pairing for so many winter braises.spare.
Tech Sheet for the 2014-Syrah