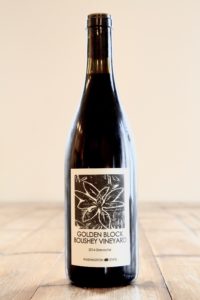 2014 GRENACHE BOUSHEY VINEYARD GOLDEN BLOCK
Dick Boushey is one of Washington's true grape-farming treasures, and a pioneer of Rhone varieties in the state. I remember a conversation with Dick years back where I expressed enthusiasm for his Grenache, and he just sort of shook his head ruefully. I'm paraphrasing here, but my memory is that he said something like: that grape is a true pain in the ass to grow, finicky as can be. I'd pull it all out if the results weren't so darned good. While he's certainly best known for Syrah, Dick's Grenache (planted in 2003) has been quietly outstanding for years now.
In 2014, we harvested pristine Grenache from Dick Boushey's Golden Block in mid-October. We fermented with native yeasts, and left 30% as whole-cluster (stems and all). We pressed into one large French puncheon and one French barrel (both neutral), and aged for 18 months with a single racking before bottling in April 2016.
What I've always loved about Boushey Vineyard for Grenache is similar to what I love about the site for Syrah: it plays on the wild, savory side of the grape. So yes, there is the Grenache trinity of brambly berry fruit and hot-rock minerality and wild herbs, but there are also wonderful subtleties of charcuterie and olive. And those subtleties only become more prominent with time and oxygen exposure, which makes me optimistic for the future of this beauty. Texturally, it is honest Grenache to be sure – plump, rich, openly delicious – and Morgan has also built an acid backbone to balance all that supple fruit. The overall package is a balanced pleasure, with charm and generosity to spare.
Tech Sheet for the 2014-Grenache