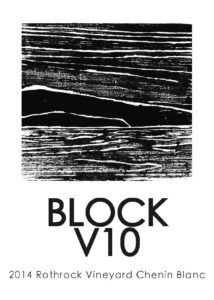 2014 CHENIN BLANC ROTHROCK VINEYARD BLOCK V10
Rothrock is a vineyard in the Yakima Valley you've likely never heard of. But it's old. How old? Well, the current owner doesn't know, so I don't know either, but the estimates are that it was planted sometime between 1974 and 1978. So, about 40-year-old vines: ancient by Washington standards. There's nothing quite like old-vine material.
Our Chenin fruit was harvested on Sept 10, 2014, then whole cluster pressed and fermented with native yeasts in two used French oak barrels (and a little stainless for the leftover juice), then aged for 7 months with weekly battonage and no malolactic conversion this time. Finished alcohol was 12.6%, and finished residual sugar was 6.1 g/L.
The nose has a core of apple and pear fruit, dusted with a sweet-and-savory note unique to Chenin. It reminds me of malt powder (like the inside of a Whopper), but I've also heard it described as honeysuckle. That might be closer, since there is definitely something floral and apple-blossomy going on here. I like my Chenin just off-dry, and that's how this one drinks, the residual sugar perfectly balanced by Chenin's bright natural acidity. This one broadens out in the mid-palate with rich fleshy fruit before finishing more austere and minerally/savory. There's something deeply appetizing about this wine. The residual sugar cries out for something fatty (duck liver mousse) or spicy (Penn Cove mussels in green curry). I'm really pleased that we have a wine in the lineup that both I and my mom (who has a sweet tooth when it comes to wine) can love.